JA OF GREATER SOUTH CAROLINA LOW COUNTRY BOWL-A-THON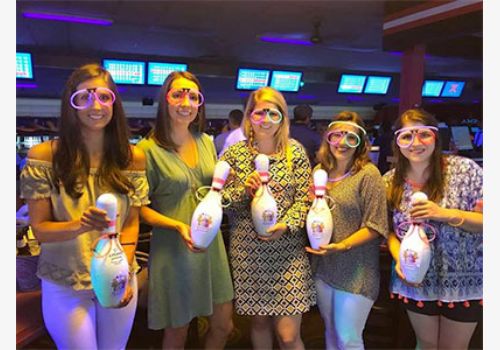 JA BizTown combines in-class learning with a day-long visit to a simulated town. This popular program allows elementary school students to operate banks, manage restaurants, write checks, and vote for mayor. The program helps students connect the dots between what they learn in school and the real world. (Grades 4-6)
Event Completed!

When: Wednesday, June 26, 2019
Where: The Alley
Time: 5:00 PM MST
The Junior Achievement Bowl-A-Thon presents an opportunity for co-workers to build camaraderie and network with one another and other companies during a fun evening at the bowling alley.

Your fun evening helps Junior Achievement STRIKE financial illiteracy in our future leaders!

A team-building and networking opportunity that raises funds to provide curriculum to local students in financial literacy, work readiness, and entrepreneurship education. The Junior Achievement Bowl-a-Thon is a great time, and a vital fund-raiser! All you do is select a date, time and location that works best for you and your team(s) — JA takes care of the details!
Need More Information?
For more information about this event, please
contact us!
"Junior Achievement reinforced concepts for me to remember later in life."
Junior Achievement Student
"I thought the experience was amazing. The presentation was unlike anything I've seen."
Junior Achievement Student
"Junior Achievement has given me a sense of what adults go through with budget issues."
Junior Achievement Student
"I liked how the Junior Achievement volunteer explained his job to us."
Junior Achievement Student